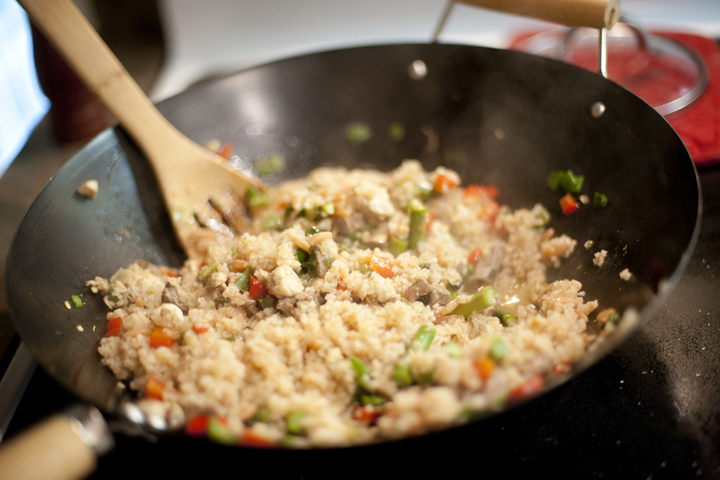 I can't think of a proper food name for this recipe.  It's a stir-fry style meal with with a whole bunch of extra good stuff added in.  It's one of Alex's favorite meals, so I make it pretty often and I really like that I can swap out ingredients for whatever he feels like eating that particular day.  It's also very simple to make & uses fresh ingredients!
To start, you will need – a red pepper, green onions, asparagus, a jalapeno, mushrooms, garlic, chicken strips, sirloin, a box of couscous & cilantro.  Plus, a couple of eggs, soy sauce & some nice spices.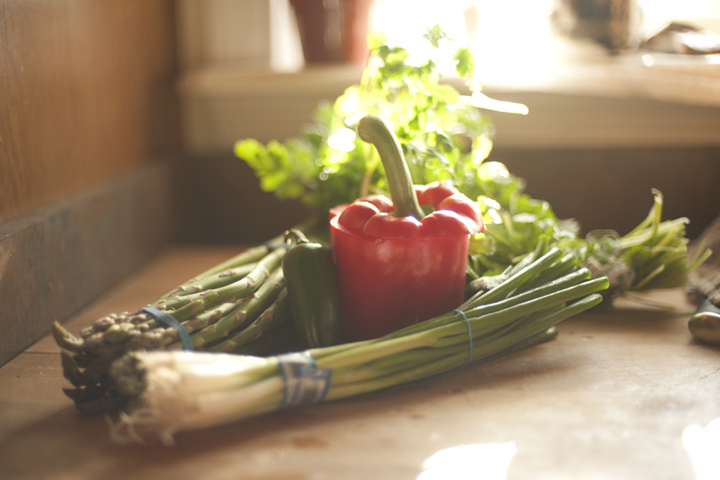 Go ahead & chop your veggies.  This takes the longest, so I like to do it first.  Once everything is chopped, the dish comes together very quickly.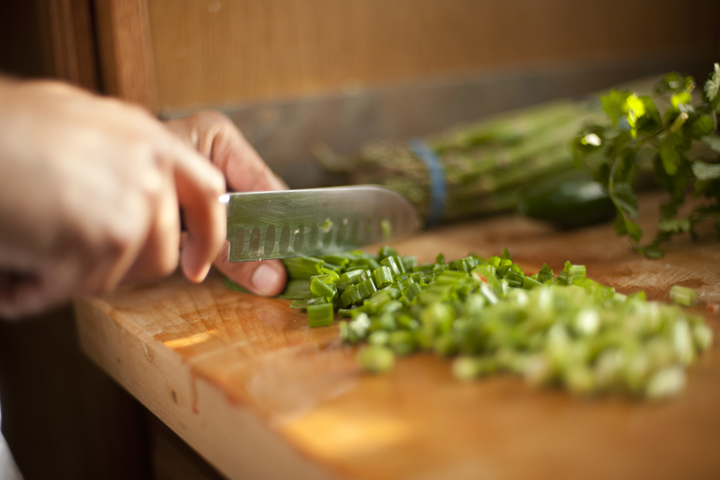 Alex has nice hands, doesn't he?  I know.. I'm creepy.


For this particular meal, I made this dish with asparagus.  If you don't like asparagus you can totally leave it out or substitute it with another veggie of your choosing.  Alex loves asparagus and eats it almost every day, so I add it into a lot of my recipes.


You can find couscous in the grains/rice aisle of your grocery store.  There are lots of different kinds and I really like the Near East brand.  You can get any kind of couscous – I typically get the garlic herb variety.  This time, I accidentally grabbed wheat pilaf instead of couscous. Oops!  It still worked just as well.


The box will give you directions. Duh.  It takes about 15 minutes to fluff up, so I usually start it right before I chop my veggies to give it time to sit.


I also usually only use chicken with this recipe.  Since I forgot to grab it when I was at the grocery, Alex was feeling a little frisky & brought both chicken & beef.  Crazy!


cut it up into stir-fry sized pieces…  mmmm… meat…


You can use a regular large skillet to cook with but I have a handy-dandy wok from IKEA.  It cooks surprisingly well & I like it because when I stir my stir-fry, it's not as messy.  Heat up some olive oil on medium-high heat.  I tend to eyeball stuff like this.. so just enough to cover the bottom of the skillet should be fine.  Besides, you really can never have too much olive oil.  It makes life better.


In goes your meat.  hehehe…  Let your beef and chicken sizzle on medium high heat until they are cooked through.


While my meat was sizzling, I chopped some mushrooms.  Alex LOVES mushrooms.  They are another one of those swappable ingredients.  If you don't like them, leave 'em out!


After about 10 6-7 minutes, your chicken is nice & white (with no pink middles) & your beef is browned on the edges.. yummm…


Time to add veggies! Dump them in & mix it up.  & yes, I use disposable plates sometimes.  Sorry, Earth.  I hate dishes.






Time to add spices! I like to use a good sprinkle of rosemary, ginger & cumin.  Why?  I don't know.  They just sound like they go together.  Just trust me.  Alex says it's good.  So… there.  By the way, I should mention that I don't like most of the recipes I make.  I make food for Alex & he grills me a chicken breast.  I'm picky.






don't forget to add your mushrooms (if that's your fancy)…


& garlic!  Garlic makes everything better…


Your couscous should be fluffy by now.


Once you've given your veggies & spices a couple of minutes to soak up all of the flavor, dump in the couscous!


Can't forget the salt and pepper. I use sea salt in just about everything…


haha.. this is my one-handed pepper grinding/picture taking technique.  I'm a professional.


Next up, grab your bottle of soy sauce & eggs.  If you like soy sauce (which Alex loves), just keep pouring.  A few tablespoons should do it.  Unless you really, really like soy sauce.  Then, just use as much as you want.  You can also wait until it's completely finished & pour some more in right before you eat!


The eggs make it all stir-fry like.  Stir them in!


I'm pretty sure there is a law that says if you are Colombian, you must love cilantro.  Alex will eat cilantro on anything and everything, so I use it in our everyday cooking.  If you prefer another type of herb, go for it!  Give it one last stir and….


Time to eat!  Alex always adds more soy sauce & sriracha because he likes it spicy.  Just like life.  Yeah.


Here's the recipe rundown!
Ingredients  |  This recipe typically yields just enough for 3 hungry people, 2 really hungry people or Alex – who eats it all in one sitting.
1 red pepper
4 or 5 green onions
7 or 8 strips of asparagus (optional)
handful of mushrooms (also optional)
1 jalapeno
1 bunch of cilantro
garlic
1 box of couscous
1 package of chicken strips
1 small piece of sirloin (or you can often buy the sirloin tips or stir-fry beef)
olive oil
Spices – Rosemary, Ginger & Cumin
2 eggs
soy sauce
salt & pepper
Preparation Instructions
Prepare couscous per directions on the box.  It will take about 15 minutes to fluff once you remove the pot from the heat.
Chop all of your veggies
Chop chicken and beef into bite sized pieces
Heat olive oil on medium-high heat in a large skillet
Place chicken and beef in skillet and cook through – about 6-7 minutes
Add in pepper, onions, asparagus, jalapeno & mushrooms.  Stir until mixed
Add in spices – a good sprinkle of rosemary, ginger & cumin.  Stir until mixed
Add in garlic.  Stir until mixed
Add fluffed couscous to stir fry
Add salt and pepper to taste
Pour about 3 tablespoons of soy sauce into stir fry.  If you want more, use more!
Break 2 large eggs into stir fry and stir until mixed
Add chopped cilantro
Season to taste with more soy sauce or salt & pepper!
Once you get everything chopped, the whole meal comes together in about 15 minutes – super easy!  If you are looking for a sweet appetizer, check my Pico recipe!  Happy Wednesday and have a great dinner! 

xoxo,
Amanda
………………………………………………………………………………………………………………………………………………………………………………………………………………………………………………………………………………………………………………………………
Shoot Me! I'm getting Married! |  Like Me? Make it official on Facebook! |  I'd rather Tweet it!